Hi, thanks for visiting Stella's Bones. I'm Lesley and I started Stella's Bones in 2015 as a dog cookie company as a joke because we'd just adopted Stella. She's a giant breed dog (half Great Pyrenees and half German Shepherd) and I figured we could use the extra income to keep her in food.

It wasn't until 2017 after I quit my day job as a family law attorney that Stella's Bones transitioned into what it is today. I may still be paying my law school loans but I have never regretted my decision to leave the law and do what I really wanted to do — work with cats and dogs.

Neither rain, nor snow, nor COVID stops me from my daily walks. As you can see, it's not always glamorous.
Like me, my husband, Jody, has changed careers to work with animals, too. After spending 20 years in the military, Jody had a short stint as an IT guy and then decided to become a mobile dog groomer. He's normally busy with his own business, but on days where I have an emergency, he may fill in for me. Occasionally, he accompanies me on my visits so he gets to meet most of my regular dog clients.
Jody and I believe in giving back to our community. During the summer months, we hold several charity dog washes, and donate 100% of the bathing fees to local shelters and rescue organizations. We also support the West Springfield Parks and Recreation Department's youth sporting program.
Jody also works with support organizations that work toward keeping animals and their humans together through hard times, while I continue to volunteer at Dakin Humane Society.
No "About Us" page would be complete without showing the rest of our family, Dinah (left) and Lilith (right). Like Stella, who was adopted from
Rainbow Rescues
, Dinah and Lilith are also "rescue dogs." Dinah was adopted from
TJ O'Connor Adoption Center
and Lilith was adopted from
Dakin Humane Society.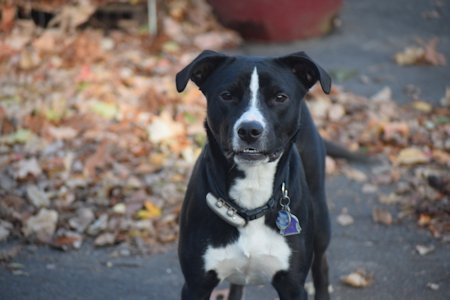 By the way, the black dog on the home page is Lilith. I pet sit some of her friends and, occasionally, Lilith comes along to play.